Probably there were no income tax saving instruments like PPF and ELSS mutual funds during Mr. Fraklin's time. If there were, he would have probably twisted that quote to something more suitable.
Speaking of tax saving instruments, it has now been rather firmly established that ELSS is probably the best one in terms of return and lock-in as far as an average investor is concerned.
Not looking for ELSS investments? Take a look at Finpeg's Alpha SIP.
Let's have a quick look at all the eligible tax saving instruments as per Income Tax Section 80C. We shall be comparing only the indicative returns and lock-in –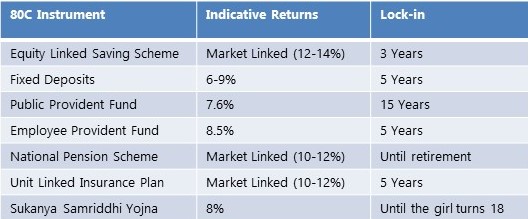 From the table it is clear that ELSS mutual funds should be the number one 80C instrument even if you consider the expected returns and the lock-in in isolation and more so when you consider them together.
Apart from these instruments, payments made as LIC premiums, interest paid on home loan EMI's, registration and stamp duty charges while buying a house, school/college/university fees are also eligible for deduction under Income Tax Section 80C.
The payments are inescapable. So, you should firstly calculate how much are you spending towards these payments. Once you know that, you simply subtract that amount from Rs. 1,50,000 to calculate how much should you be allocating to the instruments in the table.
For example – Amit has decided to buy an LIC policy which requires a premium of Rs. 2,500 to be paid every month. So, he contributes about Rs. 30,000 as LIC premiums per year.
Amit should invest Rs. 1,20,000 (Rs. 1,50,000 – Rs. 30,000) in ELSS mutual funds and other 80C instruments to make full use of Income Tax Section 80C allowed deductions.
It is, however, not the wisest decision to invest in ELSS or 80C investments once you have ensured Rs. 1,50,000 in contribution. This is because the tax-saving advantage of these instruments is coupled with the lock-in disadvantage. And it is always better to have liquid investments like open-ended mutual funds.
Let's now move to the question this blog seeks to answer…
ELSS Mutual Funds: Should You Do Lump-sum or SIP?
This is a question as old as ELSS itself.
As always, we're going to see what our data analysis says. But first let's see a few situations where this analysis might be futile to you –
You have no time in invest in ELSS. It doesn't matter whether SIP is better or lump-sum, you are going to go ahead with lump-sum anyway. However, this analysis could prove to be useful to you for the next financial year
You are a spendthrift. If you are a spendthrift, logically you should stick to SIP. Segregate your ELSS investment from your salary every month right from April and dump it into ELSS mutual funds. You don't want to spend it anywhere else
Let's proceed now to the analysis. In this exercise, we are going to consider historical NAV data of two of the most popular ELSS mutual funds –
Aditya Birla Sun Life (ABSL) Tax Relief '96
Axis Long Term Equity Fund
We shall compare the rolling SIP and rolling lump-sum returns for a 3-year tenure. First, let's pictorially understand what rolling returns are. Let's say we are calculating 3 year rolling returns for Axis Long Term Equity Fund that started on 4th Jan 2010. This is what it looks like –


We see what the fund returned for every possible 3-year block in its lifetime*. Then we find the average return of these 3-year blocks. This average return is referred to as 'rolling return.'
A few assumptions made in this analysis –
We shall compare the 3-year SIP returns versus the 3-year lump-sum returns of the two funds to draw our conclusions. This is not a fund fight – knowing which fund is the better one would be just a by-product of this exercise
[*] We consider the historical NAV data only for the period when both the funds have existed. This is because ABSL Tax Relief '96 started in 1996 and Axis Long Term Equity Fund started in 2010. To make an apple-to-apple comparison, we do not consider ABSL Tax Relief '96's NAV from 1996 to 2009
Keeping these assumptions in mind, let's get to the observations.
ABSL Tax Relief '96 SIP returns

ABSL Tax Relief '96 Lump-sum returns

Take-aways –
The returns on lump-sum investments are slightly less volatile than the returns on SIP investments
Even though the SIP returns are marginally more volatile than the lump-sum returns, the average returns and the worst case returns are much better for SIP than lump-sum
Let's see if the observations made on Axis Long Term Equity Fund confirm this…
Axis Long Term Equity SIP returns

Axis Long Term Equity Lump-sum returns

This is interesting! The observations made on Axis Long Term Fund shows contrasting results when compared to observations on ABSL Tax Relief '96.
Take-aways –
The average returns on the lump-sum returns are slightly lower than SIP returns
However, lump-sum returns come out on top when it comes to minimum returns and standard deviation
However, there's one important consistency – the volatility, indicated by the standard deviation, is lower in case of lump-sum for both the funds. Haven't we been always told that SIP's and STP's should be preferred over lump-sum to reduce risk? Probably time to rethink SIP's.
So basically, it hardly matters whether you go for an SIP or a lump-sum investment in ELSS mutual funds as far as risk and return go – there are times when SIP triumphs lump-sum and times when lump-sum triumphs SIP.
If not SIP's, if not lump-sum's… How do you go about your ELSS investments?
At Finpeg, we have answered a couple of simple questions and come up with an investment strategy for ELSS funds.
Is SIP's cost-averaging sufficient?
Would adding a methodical exit strategy improve risk and return?
At Finpeg, we recommend the extreme averaging plan (EAP) to our clients for their ELSS investments.
Without going into the details, let's get to facts and figures associated with EAP –

Not only are the averages and minimums significantly greater than SIP and lump-sum that we saw above but also the volatility is amazingly low.
Conclusion
It's pretty easy to conclude that Finpeg's EAP provides superior returns when compared to SIP and lump-sum. Additionally, EAP does so without compromising on the risk!
To know more about Finpeg's EAP, get in touch with us.
To know more about Finpeg's Alpha SIP for non-ELSS investments, give us a shout here.